My Blog
Posts for tag: pediatric dentistry
By Huckman Dental Professionals
March 22, 2020
Every February, the American Dental Association sponsors a campaign called National Children's Dental Health Month. The purpose of this operation is to raise awareness about how important it is to get an early start on developing good dental hygiene habits — and how this can lead to a lifetime of healthy teeth and gums. So we thought this might be a good time to answer some of the most frequently asked questions about how to do exactly that:
When is it time to start cleaning my baby's teeth?
As soon as you see one! The earlier your child gets used to a daily dental hygiene routine, the better. Baby teeth that have not fully emerged from beneath the gums can be wiped with a clean, moist washcloth after feedings. A tooth that has grown in completely should be brushed twice daily (once in the morning and once in the evening) with a soft, child-sized tooth brush and a thin smear of fluoride toothpaste. Fluoride is an important weapon against tooth decay, but you don't want your child to swallow too much.
Can babies get cavities?
Absolutely — especially if they are allowed to fall asleep routinely with a bottle filled with anything but water. Milk, formula — even breast milk — all contain sugars that should not be left to pool around your baby's teeth during sleep, facilitating decay. Juice is an even bigger no-no because it is not only sugary but also acidic.
Can't I give my child sweets once in a while?
We realize total avoidance of sweets may not be realistic, as beneficial as this would be for your child's teeth. If you are going to allow your child to have sweets once in a while, better that the treat be given immediately following a meal, and not as a between-meal snack. Soda should really be avoided completely — it's that bad.
When should I take my child to the dentist for the first time?
The experts say: Get it done in year one. That's right — even though your child won't have many teeth by age 1, there's a lot we can do at that first visit to ensure good oral health now and well into the future. We will do everything possible to make sure your little one has a positive first experience in the dental chair; this helps set the tone for the many important preventive visits yet to come. It's also a great opportunity for you to ask any specific questions you may have, and receive hands-on instruction on how to care for your child's teeth and gums.
If you would like more information about children's oral health, please contact us or schedule an appointment for a consultation. You can learn more in the Dear Doctor magazine articles "Taking the Stress Out of Dentistry for Kids" and "Age One Dental Visit."
By Huckman Dental Professionals
May 27, 2019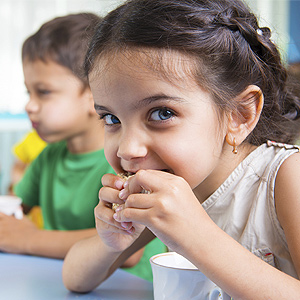 Eaten in a fast food restaurant lately? If so, maybe you've noticed some changes in the big, colorful signs behind the counters. Many have begun promoting a few "healthier" selections (like salads and grilled items) and giving a more extensive listing of nutritional information. But there's one thing you might not have noticed on those displays: a listing for soda among the beverage choices in the kiddie meal packages. That's because they are no longer there.
Recently, Burger King quietly removed sugary fountain drinks from the in-store and online menu boards that show what you get with kids' meals. They were following the lead of McDonalds and Wendy's, both of which made similar moves in prior months. You can still get a soda with your kiddie burger if you specifically ask for one, but we're hoping you won't; here's why.
For one thing, youth obesity has nearly tripled in the past three decades. As the U.S. Centers for Disease Control and Prevention (CDC) has noted, it's now an epidemic affecting more than one in six children and adolescents. Many of the extra calories kids get are blamed on sugary drinks: According to a study by the Harvard School of Public Health, children's daily calorie intake from these beverages rose by 60 percent in recent years. Obesity makes kids more likely to get many diseases, and can lead to problems in psychological and social adjustment.
But that's not all. As dentists, we're concerned about the potential for soda to cause tooth decay, which is still the number one chronic disease in children around the world. The association between sugary drinks and cavities is clear. So is the fact that tooth decay causes pain, countless hours of missed school and work, and expense that's largely unnecessary, because it's a disease that is almost 100 percent preventable.
While the new signage at fast food restaurants won't make soda disappear, it does tend to make it less of an automatic choice. Anything that discourages children from routinely consuming soda is bound to help — and let's point out that the same thing goes for other sweet and acidic beverages including so-called "sports" and "energy" drinks. It's best to try and eliminate these from your child's diet; but if you do allow them, at least limit them to mealtimes, and give your mouth a break from sweets between meals. That gives the saliva enough time to do its work as a natural buffer and acid-neutralizer.
What else can you do to help keep your child's oral hygiene in tip-top shape? Be sure they brush their teeth twice and floss once every day, and bring them in for regular checkups and cleanings. But if you do suspect tooth decay, don't delay treatment: Left alone, decay bacteria can infect the inner pulp of the tooth, resulting in severe pain, inflammation, and possibly the need for root canal treatment.
If you would like more information about children's oral health, please contact us or schedule an appointment. You can learn more by reading the Dear Doctor magazine articles "How to Help Your Child Develop the Best Habits for Oral Health" and "Top 10 Oral Health Tips For Children."
By Huckman Dental Professionals
February 16, 2019
We all know that a child's baby teeth don't last forever. So if those little teeth develop problems, like severe decay, chips or cracks, it doesn't much matter—right? Wrong! National Children's Dental Health Month, observed in February, is the perfect occasion to remember why baby teeth need the same meticulous care as adult teeth:
Baby teeth perform the exact same jobs adult teeth do, only in little mouths. Without healthy teeth, a child can't eat comfortably, speak properly or smile with confidence. Given that the last baby tooth doesn't fall out until around age 12, children need to rely on these "temporary" teeth for a long time!
While there often are no symptoms of early tooth decay, badly decayed baby teeth can become painful—and the problem may get worse quickly. Untreated tooth decay can lead to suffering and expense that could have been avoided with relatively simply dental treatment.
Baby teeth help guide adult teeth into the right position. Each baby tooth helps hold the right amount of space open for the next tooth that will grow in. When a baby tooth is lost before the permanent replacement is ready to grow in, orthodontic problems can result.
As you can see, good dental health has a big impact on a child's quality of life and health—in both the present and the future. That's why it's important to treat childhood dental disease and injuries promptly and properly. Regular dental exams are the best way to keep on top of your child's dental health. If a cavity is discovered at a routine exam, prompt treatment can keep the decay from spreading to the root canals.
If your child plays sports, ask us about a custom-made mouthguard. This small device can protect your child's teeth from serious injury.  And if a baby tooth does get knocked out, let us know. It may be best to fit your child with a very small dental device called a space maintainer, which will hold that empty space open until the permanent tooth beneath it grows in.
If you would like more information about children's dental health, please contact us or schedule an appointment a consultation. You can also learn more by reading the Dear Doctor magazine article "Importance of Baby Teeth."