My Blog
Posts for: October, 2017
By Huckman Dental Professionals
October 27, 2017
The American Dental Hygiene Association has designated October as National Dental Hygiene Month. Good dental hygiene is the best weapon against your mouth's number one enemy: dental plaque.
Plaque, a sticky biofilm that forms on your teeth, is an accumulation of bacteria, other microorganisms, food debris, and other unpleasant components. It can make your teeth feel fuzzy or slimy. And worse, the bacteria in plaque can lead to tooth decay and gum disease.
The best way to keep plaque at bay is by brushing your teeth twice a day and flossing once a day. But even though you can remove much of the plaque in your mouth with a toothbrush and dental floss, there are nooks and crannies that are hard to access with these basic oral hygiene tools.
Staying on top of dental plaque is an ongoing challenge. Immediately after teeth are cleaned, plaque starts to form again. And the longer plaque stays on teeth, the thicker it grows. Minerals in saliva become incorporated into the biofilm. As plaque takes on more minerals, it becomes calcified. This is when it hardens into calculus, or tartar. At this stage, tooth-brushing and flossing cannot disrupt the hardened layer of buildup, sometimes visible as yellow or brown deposits around the gum line.
This is why it's important to schedule regular professional dental cleanings. At the dental office, we have special tools to remove tartar and get at those hard-to-reach places that your toothbrush and floss may have missed. If you have questions about dental hygiene, plaque control or another oral health issue, we are happy to talk with you. We are your partners in fighting plaque for a bright, healthy smile!
Read more about the topic in the Dear Doctor magazine article "Plaque Disclosing Agents."
By Huckman Dental Professionals
October 12, 2017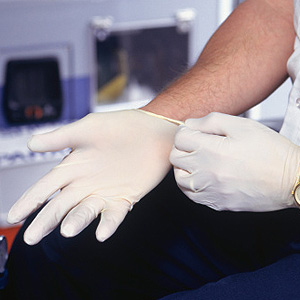 The chances of contracting an infectious disease from a dental visit are extremely low, thanks to the stringent safety standards practiced by over 170,000 dental care providers across the U.S. Without these standards, you and your family would be at risk for diseases like hepatitis from even a routine office visit.
The main prevention focus centers on blood-borne diseases in which blood from an infected person is introduced into the body of another through a cut, incision or injection site. While HIV/AIDS (autoimmune deficiency syndrome) is perhaps the most well known of blood-borne diseases, a more common and thus a more threatening disease is hepatitis. Caused by a pair of viruses known as HBV and HCV, hepatitis damages the liver, which disrupts normal bodily function and can even cause death.
The spread of hepatitis and similar diseases is a major concern for blood transfusion and surgical centers that commonly use invasive procedures and intravenous (IV) equipment. It's also a concern in dental offices where even a hygienic cleaning may result in some bleeding. To reduce the risk of disease, the dental profession has several layers of both mandatory and recommended standards for protection against viral or microbial transmission.
The Center for Disease Control, for example, publishes and regularly updates recommended procedures for equipment sterilization and disinfection. State level dental licensing boards also mandate safety procedures and require continuing education for infection control as a requirement for re-licensing, as often as two years. Professional organizations such as the American Dental Association (ADA) also encourage safety protocols among its members.
The vast majority of dentists place infection control among their highest priorities. These care providers institute and practice daily protocols and procedures for hand washing, use of masks, gloves and other biohazard protection, and disinfection. Through effective infection control you and your family can receive the dental care you need without endangering your general health.
If you would like more information on health safety in the dental office, please contact us or schedule an appointment for a consultation. You can also learn more about this topic by reading the Dear Doctor magazine article "Infection Control in the Dental Office."